Landmark Chambers' support for the 10,000 Black Interns programme
In 2021, Landmark Chambers signed up to support the 10,000 Black Interns programme.  This positive action initiative was set up to begin to address inequalities experienced by Black students trying to enter the legal profession.
Recently we were delighted to offer Paige James a three-week paid internship.  Beginning with our junior barristers in the first week, Paige was introduced to life at the Bar and worked with several tenants from a cross-section of Chambers. Over the course of her time with us, Paige gained experience in all our practice areas and her LinkedIn post regarding her time with us, may be viewed here: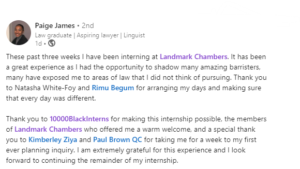 Landmark Chambers is proud to be a part of this important and life-changing initiative and to be a force for change in improving the diversity of the Bar.
10,000 Black Interns – About the Scheme
10,000 Black Interns is an initiative set up to offer internships to young Black people in the UK; 2000 per year for five years. It was launched in 2021 following a pilot scheme of 100 internships. 10,000 Black Interns has partnered with more than 700 firms from 24 different sectors, delivering internships across a range of internal business functions.
Of the 49 candidates, 24 were selected based on their oral advocacy skills as demonstrated by their presentation. The Bar Council Steering Group Committee advised that the quality of the candidates' presentations was outstanding.