Landmark Chambers First Annual Judicial Review Mooting Competition Final
The final of Landmark Chambers First annual Judicial Review Mooting Competition took place at the Royal Courts of Justice on Wednesday 6th March 2019.
We'd like to congratulate the two winning competitors – Barney McCay and Jack Barber, both of City, University of London.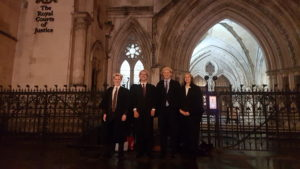 The finalists, pictured from left to right, were Barney McCay (City, University of London), Alex Schymyck (Cambridge), Jack Barber (City, University of London) and Ava Naila Mayer (Cambridge).
Landmark Chambers would like to thank all of the competitors for taking part and making the competition a success –
Birkbeck, University of London
Brunel, University of London
City, University of London
Coventry University
Durham University
Keele University
King's College London
London South Bank University
Northumbria University
Queen Mary University of London
Swansea University
University College London
University of Brighton
University of Bristol
University of Cambridge
University of Exeter
University of Kent
University of Lancaster
University of Leicester
University of Lincoln
University of Nottingham
University of Oxford
University of Southampton
University of Warwick
University of Westminster
University of Winchester
University of York
If you'd like to register your interest in participating in the Landmark Chambers Judicial Review Mooting Competition 2019/2020, please email Judicialreviewmoot@landmarkchambers.co.uk. Please note that Landmark Chambers will only accept one team per University and would therefore prefer to be contacted by a member of faculty or the person responsible for the organisation of external moots.